for the past few months i have been unable to get truly drawn in to any of the books i have excited purchase. i start them. i get 100 pages in. then... nothing. no compelling need to continue. this is a rare occurrence for me. i've joined a number of mystery yahoo groups in the hope of being 'turned on' to a must-read author. i'll let you know how it's going.
in the meantime - or perhaps as a means to an end - i found this awesomely great website: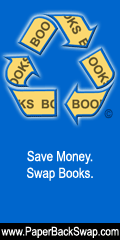 an online book swap. brilliant! and it's not just paperbacks. what a great way to build up your to-be-read shelf and whittle away at your never-gonna-read shelf. if you decide to join, tell them byronicwoman sent you.